Your Guide to Award-Winning Steak Cuts at Seared
Written by Chef Joe O'Donnell
Posted on Friday October 9, 2020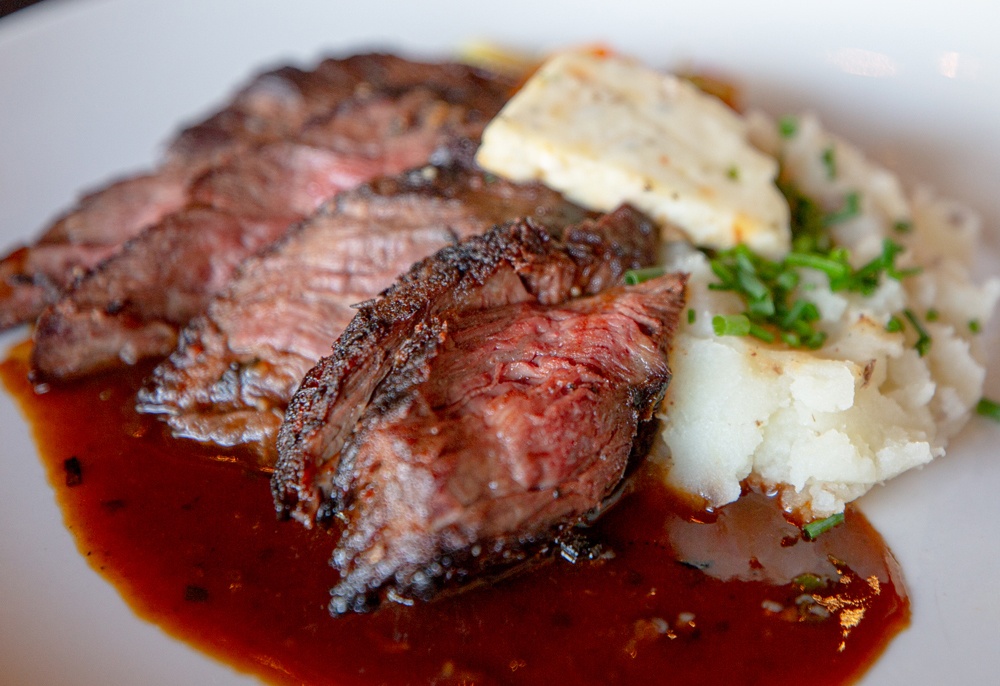 The 4 Best Cuts of Steak Available at Seared, Petaluma's #1 Steakhouse
At Seared Steak and Seafood, we are proud to be known for our award-winning steak cuts. We always make sure to diligently source the finest quality meat from our local vendors. This ensures our guests always enjoy the freshest cuts of beef available and our menus are frequently updated to accommodate what is available day by day.
Take a look at our seasonal dinner menu for examples of our mouth-watering dishes, and read on to learn about the four best cuts of steak you can enjoy at Seared, Petaluma's top steakhouse and seafood restaurant.
1. Filet Mignon
Filet mignon is regarded as one of the best and finest cuts of beef in the world. It is cut from the small end of a tenderloin steak which is found under the ribs of the cow.
Filet mignon is very lean and compact, but cut thicker than most steaks. It's buttery flavor and tender texture is unlike any other cut of beef. A filet mignon steak has a more mild flavor than other beef cuts, and can be beautifully enhanced with flavorful prosciutto or caramelized onions.
Pair our perfectly-seared filet mignon cut with a glass of our barrel-aged Vieux Carre cocktail, or a classic glass of red wine for a luxurious dining experience at Seared.
2. Ribeye Steak
Our ribeye steak is the most popular cut of beef for good reason. Delicately cut from the upper ribs of a cow, these steaks are beautifully marbled with decedent fat and flavor that you can't find anywhere else.
A prime cut of ribeye steak is full of beefy flavor and will be as tender as it is juicy. These large beef cuts are pan-seared over high heat and served with savory roasted seasonal vegetables. A full-bodied wine like a Zinfandel or dark porter beer will accompany the robust flavors of our ribeye steaks perfectly.
3. Hanger Steak
The hanger steak – also referred to as the "butcher steak" – comes from the underbelly of the cow, also known as the plate. You won't normally find these cuts of meat at your grocery store, and should probably call ahead to reserve this cut from specialty butcher shops. There is only one cut of the hanger available per animal making each steak truly one of a kind.
Wagyu hanger steak is known for its densely rich beef flavor, supreme marbling, and melt-in-your-mouth tenderness. Pair a cut of wagyu hanger with a glass of medium-bodied Syrah wine or any barrel-aged rye whiskey.
4. NY Strip
A New York Strip steak is a top sirloin cut from the under ribs of the cow. The meat has a fine-grain texture with beautiful marbling and edged in decadent fat. With a tender balance of lean meat to fat throughout this large cut, the beefy flavor is every meat lover's dream.
Our NY Strip steaks are pan-seared and finished under the broiler for perfection in every bite. Any local craft brew or glass of red wine will pair impeccably well with our top sirloin cuts.
Enjoy the Finest Cuts of Steak in Sonoma County at Seared in Petaluma
Enjoy these fine cuts of steak and many more delicious seasonal dishes at Seared in Downtown Petaluma. Come taste the difference for yourself, and experience what "award-winning steak" really means from one of Sonoma's County's top rated steakhouses.
Order Seared by calling 707-762-5997 to reserve your table in our outdoor dining area or order for pick-up tonight!