8 Craft Cocktails to Enjoy Right Now at Seared in Petaluma
Written by Chef Joe O'Donnell
Posted on Wednesday September 16, 2020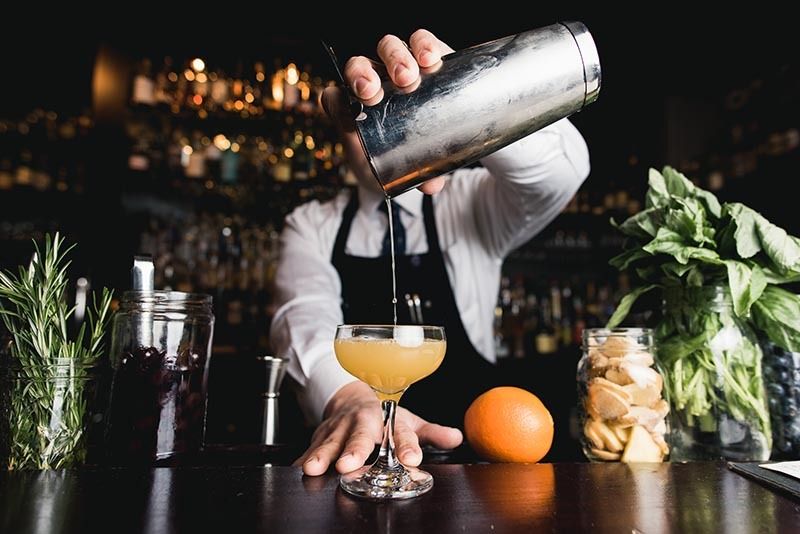 Try Some of the Best Craft Cocktails in Sonoma County at Seared
Are you ready to get out of the house and enjoy an evening cocktail and yummy appetizers with a scenic view of the Petaluma River? Or do you wanna pick-up dinner and drinks to-go for a date night in?
Check out our new seasonal dinner menu and indulge in any of these fine craft cocktails from Seared in Petaluma!
The Art of Barrel-Aged Cocktails at Seared
Younger alcohols can be more harsh and light, while barrel aging adds a more rounded and full-bodied nuance to a liquor. Aging liquor in an oak barrel creates layers of rich characteristics to its flavor and color.
5oz Negroni with Barrel-Aged Gin
Our Negroni is crafted with barrel-aged gin, Italian Campari liqueur, and Carpano Antica vermouth, with a splash of orange bitters. This popular Italian craft cocktail is built over ice and traditionally stirred until chilled.
5oz Vieux Carre with Barrel-Aged Rye Whisky
This cocktail gained popularity in the 1930s in New Orleans and was named after the city's French Quarter. Our Vieux Carre is crafted with barrel-aged rye whiskey, Cognac brandy, Italian Carpano Antica, French Benedictine liqueur, and a mix of Peychaud's and Angostura bitters.
Sip Classic Cocktails in Season at Seared
Mixology is the art of skillfully preparing mixed cocktails. It has been practiced all around the world for centuries. But what exactly makes a cocktail "classic"? They never go out of style! Classic cocktails hold a standard of excellence and are historically memorable both to craft and to drink.
A Cucumber Martini is Perfect for Summer
The Seared Cucumber Martini is a modern take on a classic cocktail. It is crafted with Vodka, elderflower liqueur, cucumber, fresh lime, and sweet simple syrup. The classic martini has been enjoyed for over a hundred years, but the exact origin of the cocktail is unclear.
One popular theory suggests it evolved from a cocktail that was popular in the 1860s called the Martinez. It was first served at the Occidental Hotel in San Francisco, California.
Sip Our Seasonal Lillet Rosé Spritz
Another modern classic, the Lillet Rosé Spritz is a combination of Lillet Rose automatic wine with fresh grapefruit & lemon, sparkling wine, and simple syrup.
Lillet aperitifs are a subtle blend of rigorously selected wines and fruit macerations. The Lillet brand was founded in 1872 in Podensac, a small village south of Bordeaux.
Enjoy Happy Hour Craft Cocktails at Seared
Join us for some Happy Hour eats and cocktails all under $10 at Seared every Thursday – Sunday from 4:00 pm – 6:00 pm!
Happy Hour Bon Vivant Cocktail
This cocktail offers a balanced mix of Citrus vodka, elderflower liqueur, pureed passion fruit, fresh lime, and simple syrup. This drink borrows its name from the French "Bon Vivant", which roughly translates to "a person who is sociable and enjoys a lifestyle of luxury".
Happy Hour Fiery Fling Cocktail
The fire in the name comes from the delicious pepper-infused tequila that we mix with vodka, passion fruit puree, simple syrup, and finish with fresh lemon.
Order Craft Cocktails To-Go from Seared
Our seasoned mixologists at Seared pre-pour our to-go cocktails in twelve-ounce bottles. Don't forget to return the bottle to get $1 off your next bottled cocktail purchase!
12oz Petaluma Rum Punch To-Go
A combination of light + dark rum, mixed with orgeat sweet syrup, passion fruit, orange, and pineapple juices and finished with fresh lime. This Petaluma favorite is perfect for summer!
12oz Seared Margarita To-Go
Crafted with Tequila, triple sec, fresh lime, and sweet agave nectar, our Seared Margarita is a great way to beat the heat.
Join Us at Seared for the Finest Craft Cocktails in Petaluma
Our entire hospitality staff at Seared is delighted to invite you to dine-in with us on our social distancing approved patio overlooking the river.
Enjoy amazing craft cocktails like these and our seasonal dinner menu available for dine-in or curbside pick-up service in Downtown Petaluma.
To place your take-out order from Seared in Petaluma call 707-762-5997.