5 Private Events to Host in the River Room Event Space at Seared
Written by Chef Joe O'Donnell
Posted on Thursday January 23, 2020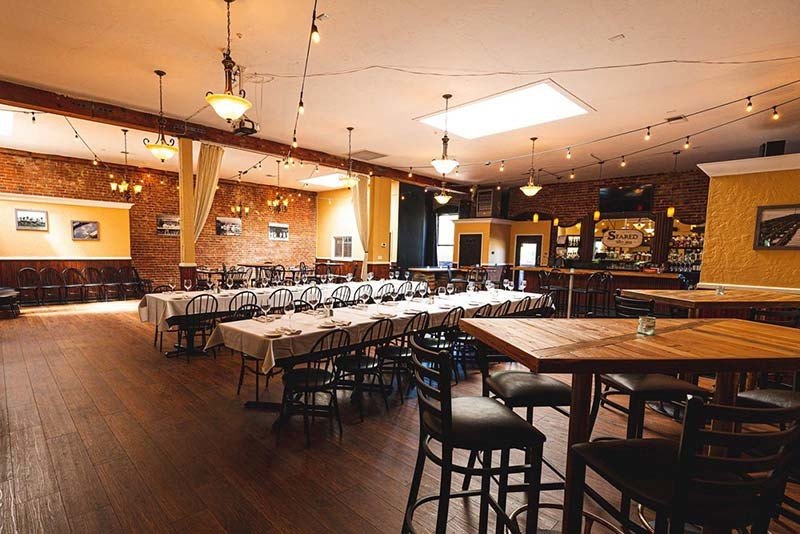 Plan Your Next Event at Seared in Our Private River Room Event Space
Whether you're planning a company event, family celebration, or friendly gathering, Seared in Petaluma is the venue of choice. Situated along the scenic Petaluma River, the newly renovated River Room is the perfect setting for any special event. Our entire hospitality team is eager to create a personalized experience for you, whatever the occasion.
The River Room Private Event Amenities:
Private dining room for 20 – 105 guests
Full bar and private bartender
Waterfront patio
Sound system
Video projection system
Plated dinner available
Buffet style dinner available
Wedding Rehearsal Dinners in The River Room Event Space
Seared is here to make the night before your wedding as stress-free as possible. Our goal is to allow you to focus on treating your guests to a peek at the celebration ahead! Our dedicated hospitality team at Seared will create a fun and festive rehearsal dinner to set the tone for your big day.
Offer your guests a dining experience by award-winning Chef Joe O'Donnell, and dine on the finest Sonoma County cuisine made with the freshest locally sourced ingredients. Our seasonal menu incorporates locally grown vegetables, beef raised by our neighbors, and sustainably harvested seafood from nearby harbors. Private dining in the River Room can accommodate up to 105 guests with buffet-style services. Rehearsal dinners with less than 40 guests have the option of a plated dinner or a buffet-style dinner.
Seared Hosts Wedding Receptions in The River Room
We would be honored to have the opportunity to celebrate your special day with you and help make it as memorable as possible. Our accommodation team is eager to meet the needs of your entire guest list and provide a personalized wedding reception in The River Room.
Get ready to dance the night away on our private dance floor, and experience your perfect playlist through our state of the art sound system. We are excited to celebrate your love and welcome up to 105 guests in our party venue at Seared.
Rent The River Room for Your Next Corporate Luncheon
If you are looking for a professional and fun setting for your next company luncheon, The River Room at Seared is available to curate corporate events and company meetings. Enjoy the waterfront views from our private patio overlooking the Petaluma River during your next company party or meeting.
Chose The River Room For Your Family or High School Reunion
Are you looking to reconnect with friends or family that are now scattered around the area? Seared in Petaluma is conveniently located just outside of the busy city and near many popular hotels, making us a convenient meeting location for your High School or Family reunion. Get ready to walk down memory lane with our professional-grade sound and video system available only to our guests in The River Room.
Host a Cocktail Party at Seared with Your Own Dedicated Bartender
Treat your guest to your own private bar in The River Room at Seared. For private parties, your bartender can accommodate the bar services based on your preference.
Open Bar Services in The River Room
Allow your guests to enjoy as many drinks as they want with an open bar. Our professional bartender will track the alcohol served and the fee can be charged to you at the end of the event.
Limited Bar Services in The River Room
Enjoy the benefits of an open bar but limited the options available or have a fixed dollar limit. Our bartender would be more than happy to create a beer and wine only menu or offer a small selection of specialty mixed drinks within your specified budget.
Cash Bar Services in The River Room
Treat your party guests to their own private bar and bartender, but let them handle their tab. If you would prefer a cash bar, your guests can pay for their own drinks and tip the bartender themselves.
Contact Seared About Hosting Your Next Event in The River Room
At Seared in Petaluma, we pride ourselves on providing you and all your guests with the highest-quality food, beverages, and hospitality. Whatever the occasion, we are eager to welcome you and up to 105 guests to enjoy your next private event in our banquet room. Call or contact us online to reserve The River Room for your next private party.