Holiday Events at Seared
Written by Chef Joe O'Donnell
Posted on Monday December 23, 2019
Christmas Eve and New Year's Eve Special Dinner Menu
If you are looking for a delicious dinner to share with your loved ones for Christmas Eve or New Year's Eve, look no further than Seared in Petaluma! Our special menu has been designed to make sure everyone at the table is happy with their holiday meal.
Christmas Eve Dinner: 4 – 8p
New Year's Eve Dinner: 4 – 10p
---
New Year's Eve Bash in The River Room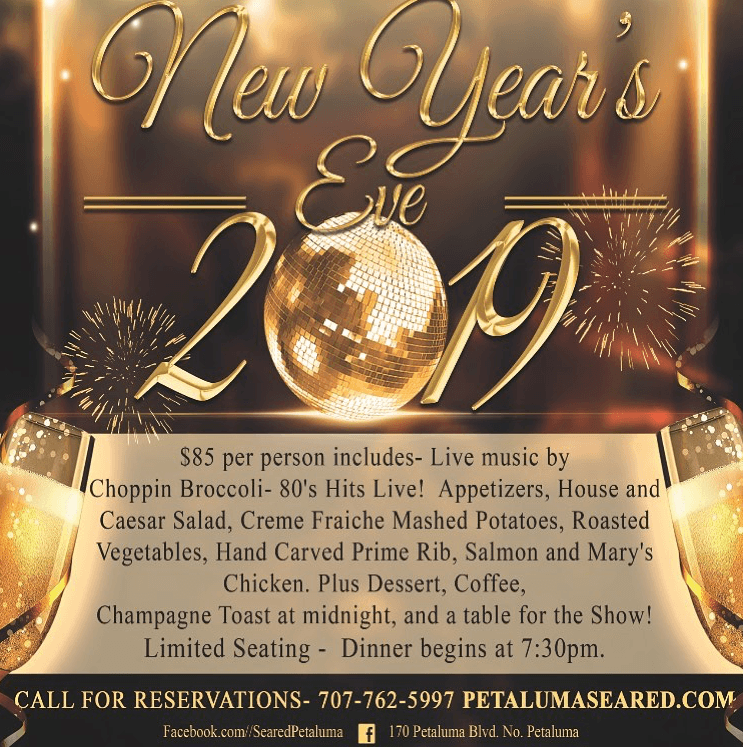 Join us up in The River Room at Seared for dinner and a show! Choppin' Broccoli will be rockin' 80's Hits Live at 10pm.
$85 for Dinner + Show
(Doors open at 7pm dinner served at 7:30)
Includes: appetizers, dinner (buffet with salads, mashed potatoes, vegetables, chicken, salmon Prime Rib) , dessert, and champagne toast at midnight & table for the night
$20 just for the show – SOLD OUT
(Doors open at 9:30 – show starts at 10pm)
Includes: show and champagne toast at midnight
Tickets are limited!
Stop by or call Seared for reservations – 707-762-5997